Experiment 2: Strengths Finder 2.0
Monday, April 19, 2010
I actually had a first experiment but for whatever reason I couldn't seem to get on it to post about it! Maybe i'll just have to go out of order.
Part of the self journey is to discover what it is that I'm actually good at. I started by asking people who knew me. As I was in the middle of doing this (which, by the way, was a very revealing process but that is a story for another post), my friend Christina pointed out that this may not be the most reliable method of seeing one's strengths truly. She noted that most people see their own strengths in you. For example, if I am good at analytical thinking, then I will notice when you are good at analytical thinking. I may never have even noticed your other strength enough to say, "you know, you're really good at having a worldview of connectedness."
So the suggestion was that I should take the Gallup survey from Strengths Finder 2.0. I really like the philosophy that people should focus on their strengths instead of focusing on compensating for their weaknesses. I particularly have struggled to move away from the "well-rounded" approach and really building up what I'm good at instead. Anyway, what Strengths Finder does is take your answers to their survey, analyze them and outputs a list of your 5 greatest strengths. Once you know your strengths, then there are a ton of books on "strengths-based" leadership, working, etc.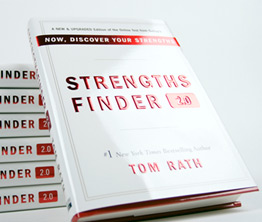 So here is what I found my strengths are (according to Gallup):
1. [Primary] Input
People who are especially talented in the Input theme have a craving to know more. Often
they like to collect and archive all kinds of information.
2. Strategic
People who are especially talented in the Strategic theme create alternative ways to proceed.
Faced with any given scenario, they can quickly spot the relevant patterns and issues.
3. Ideation
People who are especially talented in the Ideation theme are fascinated by ideas. They are
able to find connections between seemingly disparate phenomena.
4. Communication
People who are especially talented in the Communication theme generally find it easy to put
their thoughts into words. They are good conversationalists and presenters.
5. Achiever
People who are especially talented in the Achiever theme have a great deal of stamina and
work hard. They take great satisfaction from being busy and productive.

What does this all mean?
As far as I can tell, these strengths are the way I cope with problem. The order is important. So when faced with a new problem/issue/challenge, I first gather all the information I can (Input) and then map out a plan to get whatever I want done (Strategic). I try to make sure that all concepts are sound and that the things that can be connected are properly integrated (Ideation). Once a plan is settled on, then I make sure the idea is communicated to the proper people (Communication) so that it gets done. I then do the daily grind work that makes sure that the project gets done (Achiever).
Pretty cool when I can see my process articulated in this way. I'm still interested in seeing what that means as I move forward into bigger and better things.
What about you?
Have you ever taken this test? What were your strengths?

Posted by on 04/19 at 09:56 PM
hey kat, yeah--gotta agree that it's important to focus on what you're good at. otherwise, you find yourself struggling and striving YOUR WHOLE ADULT CAREER.
and even though it undoubtedly makes you a better person, sometimes you just wish you had gone into journalism and not chickened out.
just sayin'.

hey kat! i wanna take that test! can i borrow the book (or can you photocopy the test part for me)?

keep us posted with your progress… it's something all of us should be doing =)

Posted by on 04/21 at 11:54 AM

So here's the unfortunate thing (and how Gallup makes money) - each book has an access code that allows only one person to take the test. So basically you have to buy a copy for yourself.

On Amazon, it's only $13. I've found sites that sell only the access codes, but they are $17 and they don't look legit.

Posted by

Kat

on 04/21 at 01:02 PM

Just wanted to say that my Ideation is that you look fantastic on that boat! Hope to see many more boating shots in the future. ;0)

Also, I wish I took satisfaction in being busy and productive. Success must come easily to you lot. I take satisfaction in food and movies, which isn't the best combination…

Posted by on 05/19 at 03:47 PM